About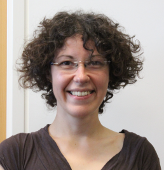 Alessia Visconti, PhD
Department of Twin Research and Genetic Epidemiology, King's College London
St Thomas' Hospital, 3rd floor South Wing Block D
Westminster Bridge Road, London, SE1 7EH
E-mail: alessia.visconti@kcl.ac.uk
Brief Vitae
Alessia Visconti received her B.Sc, M.Sc. and PhD degree in Computer Science at the University of Turin.
Currently, she is a research fellow in computational medicine at the Department of Twin Research & Genetic Epidemiology, King's College London, where she is member of the Computational Medicine Group.
Previously, she has been a research associate at the Department of Genomics of Common Disease, School of Public Health, Imperial College London, a honorary research associate at the CERN OpenLab, CERN, and a postdoctoral fellow at the Department of Computer Science, University of Turin, where she was a member of the Computational Biology and of the Machine Learning and Data Mining groups.
She is a certified Carpentries Instructor, volunteering for King's College London.
Curriculum Vitae
Alessia's CV can be downloaded here.